$90 day / Bluecheck bait
"elcoco" makes $90 in 1 day
/u/elcoco made the top 4 posts of the Past Day, and has earned $90 in the past 24 hours by posting about crypto 🪙, nutrition 🥙, and the perception of time 🕰😵‍💫.
Visit ideamarket.io and sort by "Past Day" to see what he wrote!
He's not alone — here are a few others who have cashed out recently:
Bluecheck-baiting experiment
Rate this post to increase the reward given to the first Twitter Bluecheck on Ideamarket. Rate as many times as you want — each time you rate, the reward will increase by about $1.60 (and gas for rating is ~$0.12 right now, Metamask estimates way too high).
Here's our tweet about it: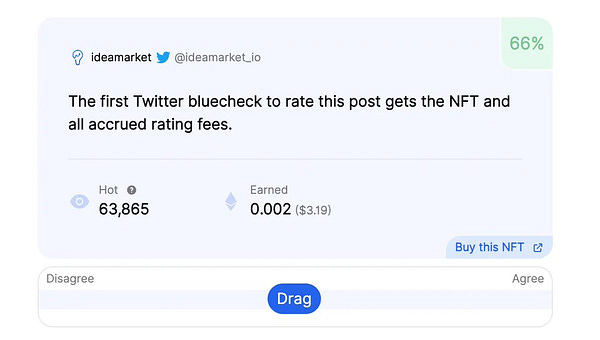 Not too late to be early!
Only 14 users have rated 10 or more posts (qualifying them for the 1000 $IMO reward, ends 9/7)

At least 5 users have made over $50
Remember: We'll be giving 1000 $IMO to everyone who rates 10 or more posts by midnight PT on Wednesday 9/7. That's about $30 worth.
Cheers,
—Mike
PS — If you haven't tried Ideamarket yet, here's the Easy Start Guide. Takes like 2 mins if you already have Metamask.